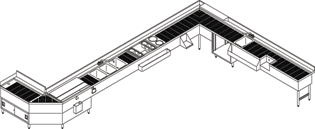 At LaCrosse, we offer free layout and design services to help you create the optimum bar design for your needs.
Whether you are working on a new installation or a remodel, we are happy to assist you with the design. We offer design assistance on any and all size projects. Plus, our custom fabrication staff can help you design any special unit or configuration for tricky locations or special needs.
Just send us a drawing of your bar (on graph paper or even if it's penciled on the back of a napkin) and your requirements. Or, call us at 800-345-0018 and we'll work through your needs with you over the phone. From there, we will create a Computer Aided Drafting (CAD) drawing for your review and approval.
Again, our design and layout assistance is a free service to you. Our interest is in making sure you end up with a design that satifies your specific needs. For more information about our design capabilities, call 1-800-345-0018 or email us at info@lacrossecooler.com.